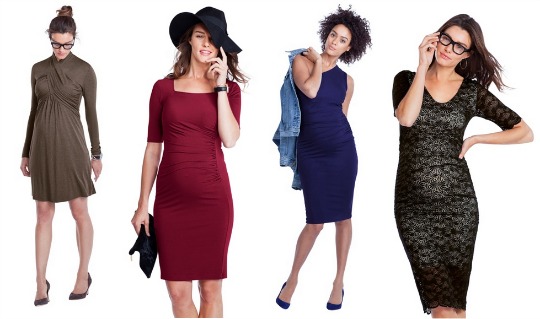 Maternity Wear has certainly got much more stylish over the years, and Isabella Oliver have some beautiful designs. If you haven't heard of them before they are an independent company that was recently named Maternity Fashion Brand Of The Year. They are a little more expensive than the cut price clothing you can get in supermarkets and in some high street stores, but at Sale time they become a much better buy.
The Sale is up to 50% off and covers all their maternity clothes, but their dresses in particular are really gorgeous. They have very clever designs like their own wrap around dress which can be worn in so many different ways and will see you right through your pregnancy without ever looking too baggy or too stretched - you adjust the fit around the bump very easily. I wore one through both of my pregnancies, and it was just about the most comfortable thing I wore.
Some of their dresses are smart enough to use as formal or party wear, and others are more comfy and casual looking. They also have reductions across Nursing Wear, Maternity Underwear, Tops, Jeans and Trousers, Coats and Jackets and Accessories. Standard Delivery charges are from £3.95.
If you are expecting, or know someone who is, then the Isabella Oliver sale is well worth a look.