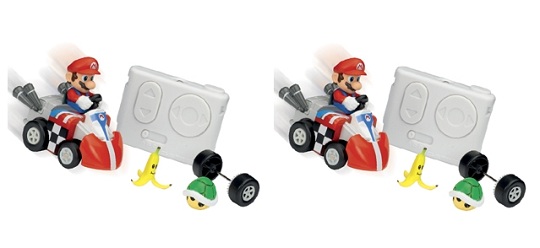 Save £4 when you get the Mario Kart Radio Controlled Car from Fine Me A Gift.com. The recommended retail price for this awesome Christmas gift is £17.99 but Find Me A Gift.com is selling it for £13.99.
Just about everyone at some stage of their lives has come in to contact with or even played the Super Mario Brothers games. The Super Mario Brothers are legendry and here's a chance for your children to play with them in real life. The awesome Mario Kart Radio Controlled Cars can go zooming around your living room rather than just on a screen. You children could even have races with their friends. Just like the video game, this racing kart has slick tyres for drift, a dash button for quick speed bursts and banana and shell obstacles to avoid.
The Wii version of the game may have been released only in 2008, but the game originally debuted in 1992 and has been a popular racing game ever since. Bring the Mario Brothers to life with this super Christmas gift or stocking filler.