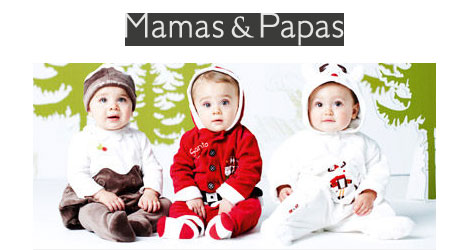 Heads up everyone! The Mamas and Papas Sale is on NOW! Pop on over there and you'll save yourself up to half price on all sorts of everything baby related.
Mamas and Papas, Mamas & Papas, M&P - whatever you want to call them - is one place I miss mooching around now that all my kids are older.
I adored looking around all their different nursery interior collections; Millie and Boris were my absolute favourite and I can't bring myself to part with the Millie and Boris fleece blanket my youngest had when he was born.
If you're preggars and looking for a Crimbo party outfit then REJOIC because selected maternity wear is included in the Mamas and Papas Sale too.
If you've already had your baby then there are discounts on some VERY cute Christmas baby clothes.
Pushchairs, prams, nursery furniture, gifts for new arrivals, Christmas gifts - you name it, Mamas and Papas have got it and there are savings to be made on most of it.
Things tend to go out of stock pretty sharpish when there's a Mamas and Papas Sale on, so I wouldn't dawdle too much if something catches your eye.
You can arrange for home delivery or collection in-store, it's up to you and whether or not you want to brave the big wide world in the last couple of weeks of pre-Christmas madness!
Thanks to JBJANEYB at HUKD