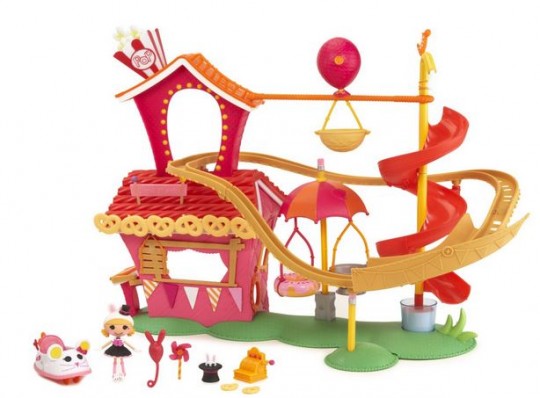 The Magical Lalaloopsy Silly Fun House Play set is £22.95 at Amazon, reduced from £39.99. The next best price I can see is £31.99 at Toys R Us or £32.98 at the Entertainer (including shipping).
The Magical Lalaloopsy Silly Fun House Play set includes an exclusive doll, Misty Mysterious and her pet rabbit, 5 fun house accessories and five play areas. These are a zip line with pet balloon, spinning swings the right side for any Mini Lalaloopsy to ride in, a twisty slide, snack shack, and a popcorn roller coaster track with removable cars that work in both directions.
There are also a few accessories - a pinwheel, cash register, character balloon, and pretzels.
If you know Mini Lalaloopsy at all you'll know these are tiny, so are only for children over four. The Lalaloopsy dolls also come apart, so they break down to really tiny and not all that suitable for little ones that may like mouthing things. For older little ones, it would make a fun filled Christmas gift.