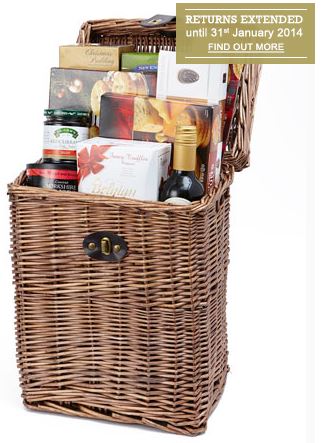 If you're wanting the Luxury Festive Hamper from BHS for tomorrow, you'll need to brave the rain and thronging masses and head out doors for it, but at half price, it's pretty much worth it. Just don't leave anything cooking in the oven because you're likely to be out longer than you anticipate!
This beautiful hamper includes:
Millaman Condor Sauvignon Blanc (37.5cl) alc. 12.5%
Gold Crown Christmas Pudding (372g),
Duc D'o Chocolates (125g),
Duerrs Cranberry Sauce (200g),
Belgian Original Truffles (200g),
New English Afternoon Tea 25s (50g),
Walkers 6 Luxury Mincemeat Tarts (372g),
Walkers Scottish Biscuits for Cheese (250g),
Walkers Shortbread Rounds (100g),
Yorkshire Crisps Tomato Basil and Mozzarella (50g).
This gift isn't suitable for peanut/nut/sesame allergies since this product was made in a factory which uses these ingredients, and it does contain sulphites.
Also, it can only be purchased by customers aged 18 and over. You will be asked to prove your age during the checkout process.