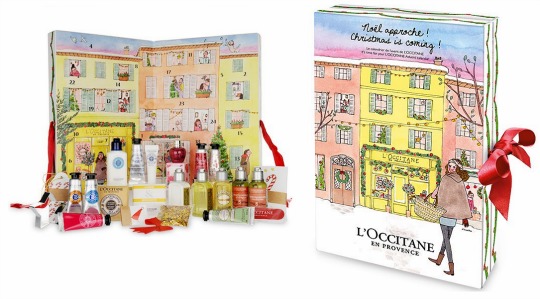 I am yet to treat myself to a 'grown up' advent calendar but this year I have decided that I am going to splash out on one. Trying to decide which one is a big decision. I really love the Christmas Beauty Advent Calendar that L'Occitane have brought out. It is full of skincare goodies to indulge in for just £39. Also until midnight Sunday 18th October there is FREE standard delivery across the site.
So what can you expect to find in your L'Occitane Beauty Advent Calendar? Well there are 24 treats within the calendar including many bestsellers, perfect for a pre-Christmas treat! This is what is included:
35ml Almond Shower Oil
• 10ml Almond Delicious Hands
• 5ml Pivoine Fora Eau de Toilette
• 10ml Delightful Rose Hand Cream
• Nail File
• Set of 5 gift tags
• 50g Jasmin & Bergamote Soap
• 10ml She Butter Hand Cream
• Star-shaped Pastry Cutter
• 50g Milk Extra Gentle-Soap
• 10ml Pivoine Flora Hand Cream
• Set of 10 stickers
• 10ml Ultra Rich Face Cream
• 30ml Ultra Rich Body Lotion
• Set of Place Cards
• 35ml Repairing Shampoo
• 35ml Repairing Conditioner
• Bow Tree Hanging Decoration
• 30ml Verbena Shower Gel
• 30ml Verbena Body Lotion
• 10ml Cherry Blossom Hand Cream
• 3ml Moisturising Lip Balm
• 10ml Shea Butter Foot Cream
• Sachet of Stars.
If you haven't tried any L'Occitane products before then this is a great way to try several of their bestsellers. I love L'Occitane products, I love the fragrance of them, the natural elements and even the packaging. They make fantastic gifts too so if there's anything in your calendar that you don't fancy trying (which I highly doubt!) you could always give it as a gift to someone else. Be quick though, this fab treat is sure to sell out quickly! Enjoy :-)