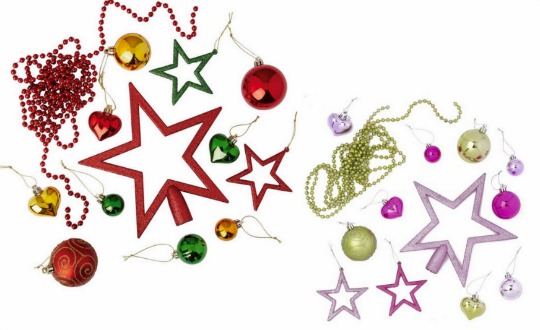 Needing some new Christmas Tree Decorations? It can cost an absolute fortune buying nice ones. If you are on a tight budget then we have just the solution for you. Check out theses Boxes of 50 Christmas Decorations from eBay Store Littlewoods Clearance. They come in two different colour choices: Green/Red/Gold and Gold/Pink/Purple. They are only £4.99 (instead of £20) plus £3.95 delivery, making them cost just £8.94 delivered.
In each box of 50 Christmas Decorations you get an assortment of stars, baubles, beads and more in the colours of your choice. It's all for the tree so if you have a small to medium tree to decorate then this should get you on your way at least.
The Green/Red/Gold box is more of a traditional look but we do like the Gold/Pink/Purple too as it's pretty and quite modern looking.
You can explore more of the bargains at Littlewoods Clearance on eBay, here*. You might even find some bargain Christmas presents. You will only be charged one delivery charge of £3.95, so it can work out better if buying multiple items.