LEGO Shoes By Kickers @ M&M Direct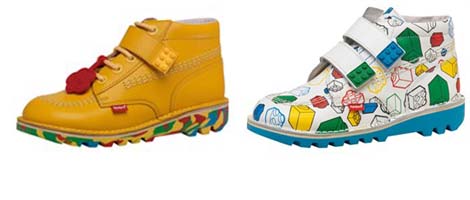 I love these! Love them! These Lego shoes by Kickers are just so hideous that I am in love. I'm a fan of Ugly Pretty and these fit the bill perfectly. These have all be marked down substantially from their usual high prices and would make a great Christmas gift or winter pair of warmers.
The first pair are bright yellow with Lego images along the sole. I'm not a fan of this pair, if I am honest, that yellow is a bit too mustardy for my taste. These are down to £19.99 with a saving of £35 on the original price and available in sizes UK12 to UK 2.5.
The Infant Heritage Lego Print Kickers with laces or with strap, are both down to £19.99 too and I love these. They are crazy cool. White with Lego blocks all over them, kids will love them. I dig the red laces too. Available in sizes 12-2.5.
You can also nab a white pair with Lego laces, or the awesome Heritage pair in red with Lego straps. These are all £19.99 and just scrummy. It's just such a pity they don't have any in my child's size.
Thanks to shazzersere at HUKD!