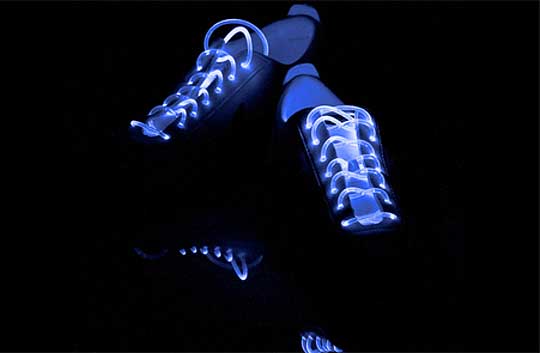 If you're looking for a stocking filler that's a little different, then you could do worse than take a peek at these LED shoe laces over at HMV. They only cost £3 and are guaranteed to have kids of all ages, and some grown ups, more than a little excited about going out in the dark.
These LED shoe laces remind me of those glow stick bracelets and necklaces that you get from the fair - you know the ones I mean, they're really bright to start with and gradually fade over time.
Well the only time these LED shoe laces will fade is when you need to replace the batteries - they take 4 CR2032 batteries, which are included, and will last between 60 to 80 hours at a time.  The battery life very much depends on which mode you choose to have your laces on: always on, slow flash, or fast flash <------ for hectic raving obviously.
They measure 31cm each which, apparently, should fit most shoe and trainer eyelits.  My youngest son would go absolutely crazy for these, he loves things that light up - the only thing is, I know we'd be constantly sitting in the dark just so he could see his laces all lit up!
There aren't any additional costs to pay for delivery BUT the delivery time is currently stated as being between 12 and 24 days.
Thanks to InsertName at HUKD