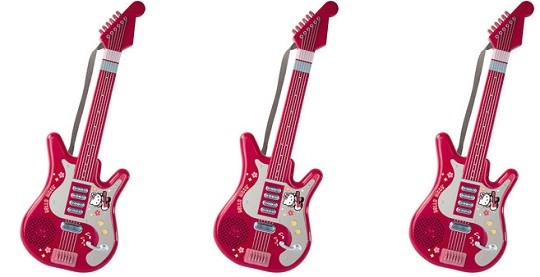 Marked down from £14.99 to £9.99, this super saving of £5.00 is just in time for Christmas. Make sure your kids, especially little girls have a rocking Christmas with the Hello Kitty Electric Guitar from Toys R Us, it's awesome.
Your kids can play like a rock star and pump up the tunes with this great Hello Kitty Electric Guitar. They are going to have an absolute blast with this one. Christmas Day might become a bit noisy but it'll be worth it for the hours of fun they'll have with it. Perfect for any Hello Kitty fans but especially those wanting to learn a musical instrument or those with a musical ear. They can even add their own special sound effects for a live show.
The Hello Kitty Electric Guitar comes complete with 4 melodies, 5 sound effects and a whammy bar. It's a great way to start developing musical skills while having a great time too.