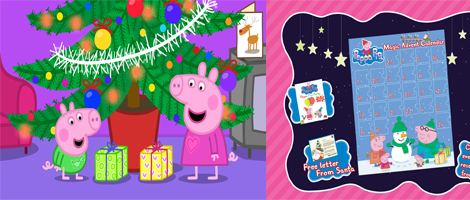 The Official Peppa Pig website is currently running an adorable online advent calendar that reveals all sorts of exciting things every day. And, hidden inside one of the days, is a tasty 10% discount voucher off Peppa Pig merchandise in the online store.
To find the advent calendar go to the landing page and then in the top right-hand corner you'll see a sparkly black sign that says Peppa Pig's Magic Advent Calendar. Click on that and you'll be taken to the calendar itself.
Like any normal advent calendar, you only need to click on the relevant day and a special item will be revealed. Each day will bring new surprises, including the nice 10% discount voucher.
Day 1 was a big fat advert to buy Santa's Grotto, the new Peppa Pig DVD. This didn't impress me at all, at least give some fun things before you start selling to everyone. However, I was promised that there are free games, activities, colouring sheets and stories on the various days so we'll forgive day 1.
You can also do a letter to Santa with Peppa Pig, which I thought was really cute. So, even with a fairly false start, it looks promising on the free Peppa Pig advent calendar.