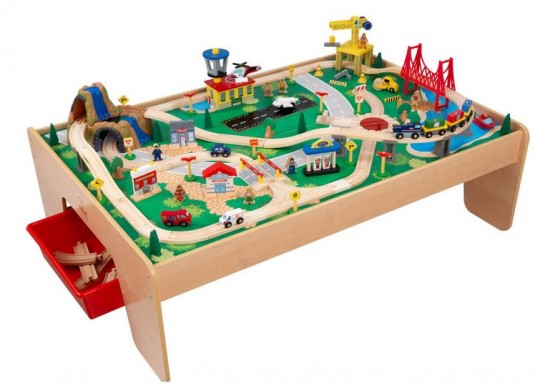 Amazon are selling the Kidkraft Waterfall Mountain Train Table and Set for £83.88. From the Amazon RRP of over £220 it looks a massive saving, but actually if you look around the web you'll see it sells elsewhere for anything from £117 to £195, so it's still a pretty good little saving.
I don't know if it's wishful thinking to think that a train table would mean no more carriages, people or tracks underfoot, but my girls love their trains and whenever they play, I end up tripping, standing or slipping on something. Somehow I don't see my two a being all that able to contain themselves to the table, but I do love the idea, and especially the built in storage part.This wooden train table comes with three bins and 120 Mountain Train Set pieces.
It has special T-moulded edges to prevent chipping and a silk-screened landscaped playboard. There's a 4 cm lip to keep toys on the play table and importantly, it's compatible with Thomas & Friends® wooden train sets and Brio® wooden train sets.
It comes packaged with detailed, step-by-step assembly instructions and is 124 cm L x 87 cm W x 41 cm H, so you'll need some room for it, but it's not overly imposing.
It's a perfect Christmas present, although I'd say build and wrap it complete, or that's what you'll be doing on Christmas morning!
Kidkraft Waterfall Mountain Train Table and Set