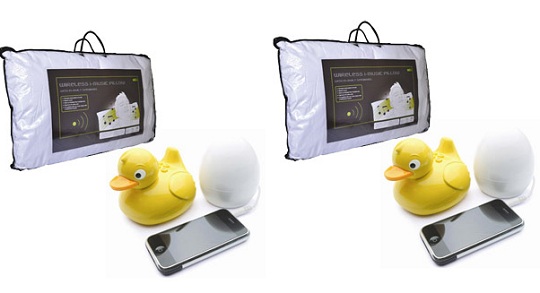 Both the iMusic Pillow and iDuck play your favourite tunes from your iPod or MP3 player. Readers Digest are offering this pack of both the iMusic Pillow and iDuck for £29.99. Take advantage of this great deal to get the music fan in the family a fantastic Christmas gift.
With the iMusic Pillow you can listen to your iPod or MP3 player in bed without disturbing anyone around you. The wireless technology allows you to transmit audio from any audio source so you can listen to music or even the TV while lying comfortably in bed. This is amazing for long car trips or any other form of travelling; you can lie back with a comfortable pillow and listen to your own music. No more fighting in the back seat over what music to listen to.
The cute little waterproof iDuck will cleverly play all of your music in the bath, without the need for wires. When you're tired of listening to your music there is also an on-board radio. Lastly the egg-shaped transmitter can also be used anywhere to transmit audio. Place it on your desk while you work or in the kitchen while you make dinner.