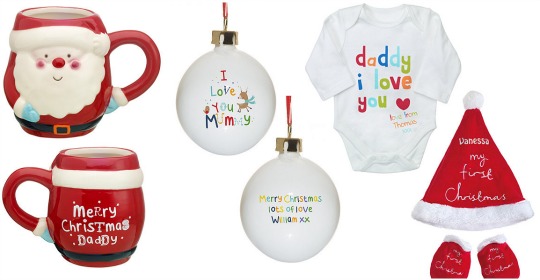 Looking for Baby's First Christmas Gifts? Grandparents Gifts from the Baby? Or something personal for Baby to give to their Mummy or Daddy? There are some absolutely huge reductions in the Christmas Gift section at Mothercare. Perhaps it's because we don't automatically think of them for gifting apart from toys, but there's quite a range and some are absolutely beautiful as well as massively reduced!
The cheapest thing in stock right now is the cute pink Fairy Bauble* down from £5 to £1.50. There are Christmas Mugs for Mummy/Daddy/Grandad at only £2.50, or how about some My First Christmas Booties* at £2.50 too?
There are two gorgeous Christmas Baby Blankets, both £10 Off at £5 each, a reversible Reindeer* design or a cute 'Baby It's Cold Outside'* fleece one. You can still get lots of reduced personalised items too if you are quick, as these need to be ordered by the 15th of December to be delivered by Christmas.
It's well worth a look if you are buying either for Baby or buying a gift from the Baby. The personalised gifts especially make very special and unique gifts.