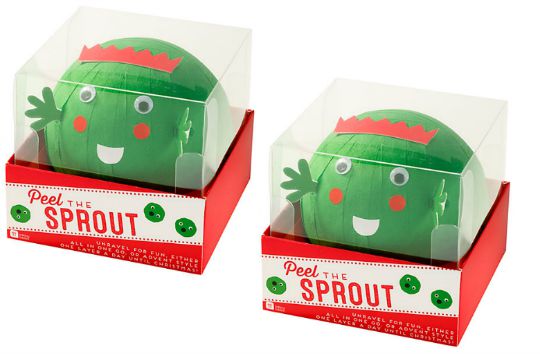 This looks like so much FUN! The Ho Ho Ho Peel the Sprout Game can be used as a party game or as a fun Advent Calendar where you strip a layer off each day. It's currently only £8 at John Lewis and I think that's a snip for what looks to be a really fun game. You probably haven't given much thought to Christmas day but this is just ideal for playing at that Christmas Dinner or Party.
How does Peel the Sprout work? It's a GIANT paper Brussel Sprout that is made up of 25 peelable layers. As you peel the layers, it reveals little, secret, festive surprises.
You can expect to find goodies like trinkets, jokes, trivia facts and paper crowns sandwiched between the layers. This can be used as a game in a Pass the Parcel type way or as an 'alternative' Advent Calendar.
You can Click and Collect the Ho Ho Ho Peel the Sprout Game for £2 from a John Lewis or Waitrose store or pay £3.50 to have it delivered to your front door.