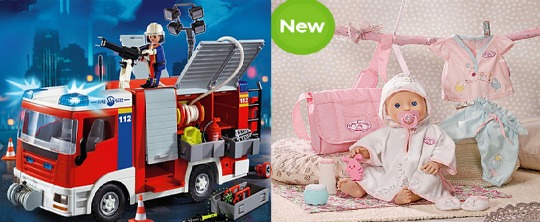 NOW LIVE!! Check out the Toy Sale HERE
*We are not quite sure why Asda haven't reduced the prices of the items mentioned in this blog, since the information came from an advert in the newspaper, but we have heard from a couple of you that the Playmobil Fire Engine has been £20 instore.*
I know what you are thinking....hang on a minute Asda already have an up to half price toy sale on. Yes, they do! On Thursday 6th November, they will be adding more lines to that, instore and online, as bizarre as that sounds! From the information we have, there will be a lot more items that people actually have on their Christmas lists just like that new Baby Annabell Deluxe Bath Set*, pictured above. That is tipped to be included in the sale, for just £30.
Of course, nothing is set in stone, but here's another few items to keep your eye on:  Playmobil Fire Engine* will apparently be only £20. We will add on any other bits that we get information on.
We have fingers crossed for some big reductions on LEGO Minecraft and Frozen toys!
Thanks to Goonertilidie @ HUKD