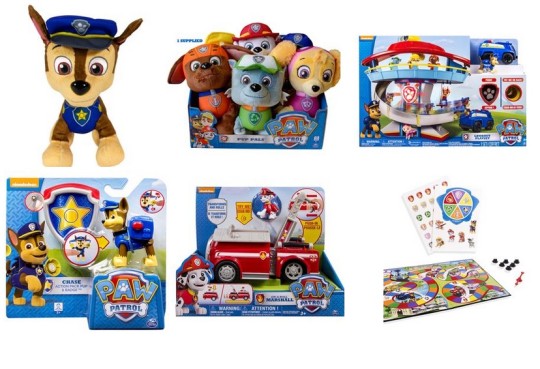 If you've been  hoping to get your hands on some of the Paw Patrol toys this Christmas, it looks like they'll be in stock at Smyths from the 5th of December.
Starting at £4.99 for a range of Paw Patrol racers, these racers have real working wheels for push and play action.
The Paw Patrol Plush Pup Pals will be coming in at £9.99 each, and these 8" pups come in 7 characters including Marshall, Rubble, Chase, Skye, Rocky, Zuma and Ryde. Unfortunately it seems which one you get will be luck of the draw as you wont be able to choose.
On the pricier end of the scale, you'll find the Paw Patrol On-A-Roll Vehicle Marshall for £24.99, a doghouse that turns into a fire truck - perfect for those emergency fires that come up from time to time. There's also the big play set - Paw Patrol Lookout for £44.99.  This playset has  a real working periscope to search the surrounding area for danger, a wrap around slide and a lift.
Get over to Smyths first thing on the 5th though, as from what we hear, these are highly sought after for Christmas, and won't stay around for too long.