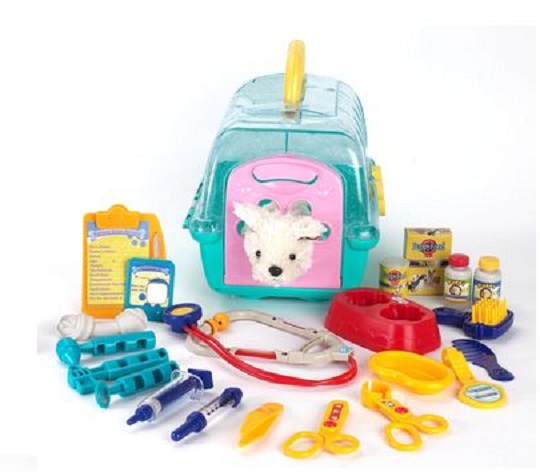 Inspire your children to start thinking about what they would like to be when they grow up with the Hamleys Vet Kit for £11.00. Save £11.00 with this super Christmas gift from Hamleys that is marked down from £22.00.
Children love to pretend to be doctors, nurses, vets and various other professionals as they grow up. This role playing is a fabulous way to inspire them to start thinking about what they would like to be someday. One of the favourites, particularly of children that love animals is to dream of being a vet and pretending to treat animals. This super kit from Hamleys has all they need for hours play at being a vet.
The Hamleys Vet Kit is suitable for children over the age of three and will make a fantastic Christmas gift this year. It includes a carrier box, puppy name tag, feeding bowl, clip board and patient examination notepad, Vet ID badge, puppy food and vitamins, rubber bone, comb, brush, thermometer, stethoscope, tweezers, clamp, kidney tray, dentist mirror, reflex hammer, safe scissors and safe syringe.