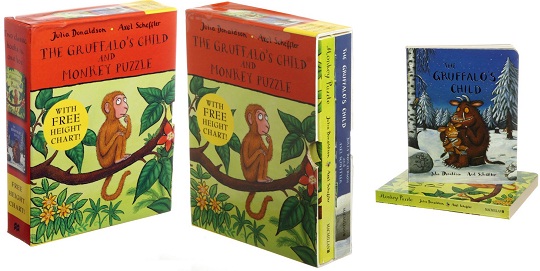 I love the Gruffalo's child. It has a nice pace, and a lovely setting. You can almost hear the shush of the snow in the woods. And also I like that it is a cautionary tale without being preachy. Always best to stay at home with mum and dad kids! If you're looking for a Christmas gift to give to a young child then this could help. It is the Gruffalo's Child and Monkey Puzzle board books in a boxed set that includes a free height chart. If you can collect instore it will only cost £5 at WH Smith. It normally costs £11.98.
The two books come in a slip-cover style box. They're hard books, so more suited to younger children who are a bit rough with paper pages. Slightly older pre-schoolers may find it babyish though.
I'm not so familiar with the Monkey Puzzle book, also written by Julia Donaldson with the same fabulous illustrations from artist Axel Scheffler. The story follows Monkey as, with the (not so) helpful blue butterfly tries to find his mum.
I think that it also contains the words and the music for the Monkey Puzzle song, although I'm not 100% sure that's in all versions of the book.
Thanks to goonertillidie at HUKD!