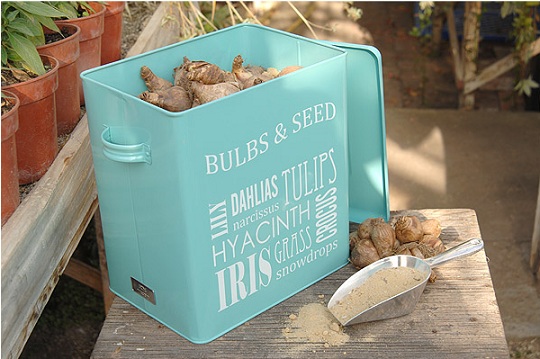 Save £5 on this cool Christmas gift for the gardener in the family. The Bulbs and Seed Tin from Strawberry Fool was £19.99 but has now been reduced to £14.99, that's a 25% saving!
If you're looking for a Christmas gift for a budding gardener this year, the Bulb and Seed Tin is perfect. This stylish blue powder coated tin is ideal for storing all sorts of bulbs - tulip, crocus, daffodil, snowdrop - you name it. It keeps bulbs and seeds frost free, damp proof and away from hungry mice.
Keep it in the shed or the greenhouse and it will help you stay organised and tidy. You could even keep it in the house it's so nice. There'll be no more messy packets of bulbs and seeds left lying around. The Bulbs and Seeds Tin also comes with a handy aluminium scoop for seeds. The size is 28 x 21 x 30cm.