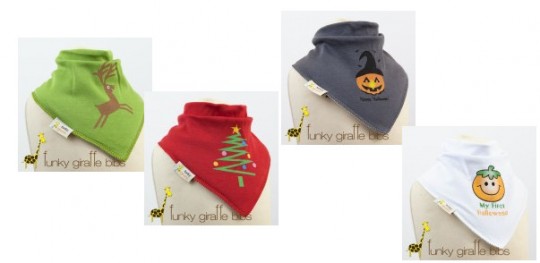 Drool, food and snotty noses are just a few of the gooey things that come with babies and bibs are a great way to protect clothing. With my first I had a drawer full of bibs that were never used as she just wasn't a drooler for very long, and with my second I didn't even buy any bibs, but she's quite a drooler when she teether and is much more spitty than her sister was , so I was quite pleased when we were sent a gift box of bibs from Funky Giraffe.

Funky Giraffe Bandana bibs come in a range of designs from standard wear to occasions and special days. We received a mix of Christmas and Halloween bibs, which are nice but time limited. Their standard range of stars, hand prints, skulls, spots and plain – non-stereotypical – colours are fantastic too, in fact I like their standard designs even more!
These bibs are gorgeous. They are exceptionally soft and are curved to fit snuggly around your baby's neck. They have two studs to make sure they can't be tugged off and that should add longevity to them too – you'll be able to adjust where they're tied as your child gets older. The front of the bib is 100% cotton, while the back is 100% polyester. This unique fleece backing prevents liquids soaking through the bib, making these the ultimate accessory for weaning or a teething baby. I've put these on my daughter and she can pretty much wear one bib all day, unless she spits up or tries to eat them, then she might need two or three.
Oddly enough, I'd never noticed these bibs before, but since I received them, I've been seeing them everywhere – even two of my friends had them on their babies recently! Interestingly, I can't find the designs my friends were sporting on the website.  Perhaps they have limited editions often? Funky Giraffe do have a personalisation service where you can choose your bib colour, and add text to it. These don't have images, but can be quite fun anyway, and make lovely gifts. I 'designed' a bright yellow one with the words "Sunny Days Ahead" for our holiday.

The designs we were sent are perfectly seasonal for the Autumn and Winter. Two of them have Halloween images and two have Christmas. The Halloween bibs are quite sweet and totally baby appropriate – in other words not scary. There's a white one with 'My First Halloween' written on and a smiley-faced pumpkin. The other Halloween bib is in slate grey and has a slightly more ominous pumpkin sporting a witch's hat. The Christmas bibs have a squiggled Christmas tree and a reindeer on them; perfect for baby's first Christmas – and probably okay to wear for at least a month around each occasion.
The bibs arrived in a gorgeous box, with butterflies and the bibs themselves wrapped in tissue paper. The whole presentation was beautiful and perfect and I would happily give or receive these as a gift at any time of the year. It may seem like 'just bibs', but they're just gorgeous bibs, and really practical and useful. And they look really good too.
The Bibs are a variety of prices - by which I mean they're on a bit of a sliding scale. Buy one for £4, or 10 for £20.50, for example.
The Good
Well, I've said it all already, but here it is recapped:
These are gorgeous
They are really absorbent
Funky Giraffe bibs have fun and, well, funky design
They look so good on – real trend setter stuff here
They save your child's clothes
They save your child's skin from dribble related rash
Their triangle design can make them space saving, as you can fit twice as many in the same amount of space
Beautiful, awesome quality and a really good Christmas, or any time, present
The Bad
They cost a little more than ordinary bibs, but they are so much better that  you need less.
They aren't perfect for baby led weaning, since they don't cover the whole body or even the whole abdomen.
Final Verdict
I love these Funky Giraffe bibs, they're really good. Perfect Christmas presents, perfect new baby presents and perfect just for saving your sanity so you don't  have to change outfit a thousand times a day.