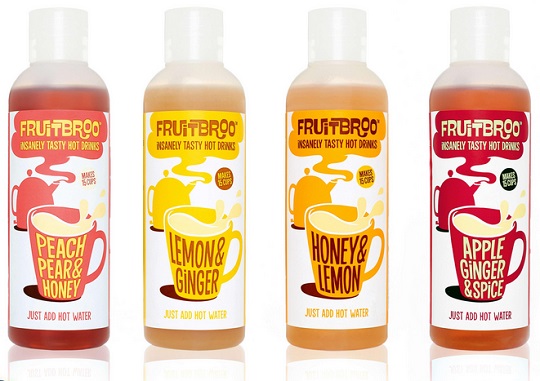 For the last few weeks a lovely scent has wafted around my kitchen. It is strongest when I open the cupboard where we keep the tea and coffee.
These gorgous, and yummy, aromas come from the two little 100ml bottls of Fruitbroo we were sent to review. This is a new type of tea. Which sounds odd in itself. How can you have a new type of tea?
Fruitbroos are a herbal tea in a liquid form. They're hot drinks made with real fruit juices. But, do they taste as lovely as they smell? Read on to find out.
There are six flavours of Fruitbroo, but we were sent two for review. These were Honey & Lemon, and Peach, Pear & Honey. All the teas come in 100ml bottles, and cost £2.50 each.
My first thought was about the bottle sizes - very handy if you travel by airplane. I'll definitely be recycling these!
You add between one and two teaspoons per cub, to hot water, and you should get about 15 cups per bottle. I haven't finished a bottle yet so I can't tell you if that is actually the case, but so far it seems to be about right.
All Fruitbroo's are 100% natural, caffeine free, suitable for vegetarians, and have 15 calories per cup.
The Honey & Lemon is just divine, and went down a treat when I recently had a cold. Very soothing, and it makes a nice relaxing drink late at night. Or early in the morning if, like me, you suffer from early morning insomnia.
The Peach, Pear & Honey tea is rather like a dessert tea. Or that's how it seemed to me. Sweet, but also refreshing. A good pick me up that felt like a little burst of summer on a cold, dark, wet day.
So far these teas have been a hit with the majority of people I've tried them on. I've had one or two say they felt it was a bit cloying and one person commented that it felt sticky in the back of their throat. I don't really know what they meant by that though, and they couldn't really explain it either! Maybe I didn't dissolve the tea properly?
A caffeine-free friend of mine said that she thought the tea was definitely a step up from a teabag, but couldn't hold a candle to a cup of herbal tea made with fresh ingredients. She likes to smash up her own ginger to steep, then stir in honey bought from a local beekeeper.
My verdict? Well I'm going out to buy more. I want to try some of the other flavours, plus I think they will make a lovely little Christmas gift for class teachers.
Pros: smell great, taste lovely and fruity, feels like a proper fruity drink
Cons: a little expensive for 15 cups
Overall verdict: 8 / 10