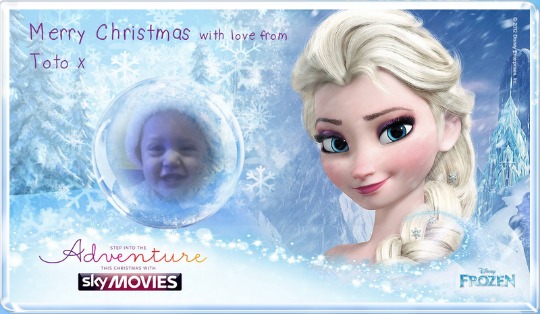 It is SO time consuming writing Christmas cards, so much so that lot's of us have stopped doing it. I guess making eCards to send is not only time efficient but it saves having to remember to post them, saves heaps of money AND is eco-friendly. If you have gotten until today without writing out a Christmas card, then chances are you just aren't going to bother, so why not take advantage of the FREE Create your Own Christmas eCards from Sky.com? There's lots of lovely designs, all with a movie theme, like Disney's Frozen and you can add a nice photo of the kids or a family portrait. If you want a hard copy then Sky will send you three copies of your eCard in a postcard format.
This is actually a really fun way to send cards and it's ultra easy to do:
Step 1- Select the movie theme you want for your card. There's lot's to choose from!
Step 2- Add your photo. You can choose to do this directly from your device or link to your Facebook account for one.
Step 3- Add the name of who it's from. For example, The Radcliffe Family x
Step 4- Review the card. Make sure it's exactly how you want it.
Final Step- Send and share. Just fill in your name and email address. And, choose how you want to send it. There's a choice of Facebook, Twitter, Email. If you do want a physical copy then you can download it, print it or even have Sky send you out three copies for FREE. I think today is the last day for this, if you want it in time for Christmas!
Enjoy! Hopefully you have fun making your very own Christmas eCard/Postcard, just like I did!