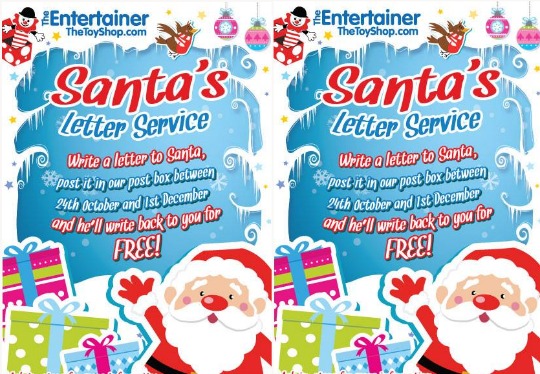 It's not often the big retailers give us something for nothing, but when they do we grab it quickly with both hands. The Entertainer are offering a FREE Santa's Letter Service. It's so much fun sitting down with the kids and helping them write their letters to Santa Claus.  doubt they will be short of things to put on it but click below to check out the hottest toys on the market.
To use the FREE Santa's Letter Service it's very simple (getting the kids out of the actual toy store at this time of year won't be!), just collect one of the special letter templates from The Entertainer, get your little angels to fill it in, then just pop it into one of the special postboxes within your The Entertainer store.
I am not sure if it's compulsory to use their own Santa letter templates, I think as long as you clearly state the child's name, age and address then you should be fine and get a reply. Letters MUST BE POSTED IN STORE BY 1ST DECEMBER 2014.
Thanks to Leer @ HUKD