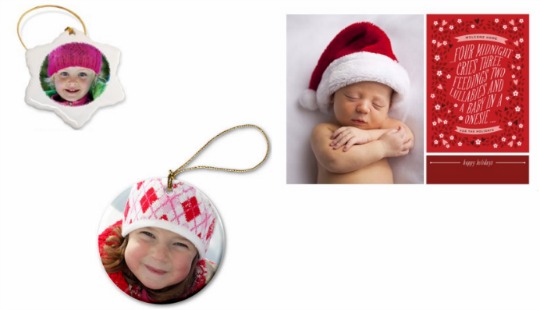 Oh. My. Goodness! What an offer we have found for you. Get £8 off ANYTHING on Snapfish (we couldn't find anything it didn't work on). There's no minimum spend which means you can get some items for FREE, you just have to pay the postage. Think Personalised Photo Cards, Mugs, Keyrings and more. Just use promo code PAYPAL1215 at the checkout and pay for your order via Paypal.
Want to send out Christmas Cards that are a little bit special? Make some Personalised Photo Christmas Cards* over on Snapfish. You can get a pack of 20 from FREE and you will only have to pay the postage fee of £3.98. These are nice to send to the family, especially if you have a new addition.
Christmas decorations with the kids on. What could be nicer than seeing you tree dressed with your cheeky cherubs faces on. Get this Snowflake Decoration* for FREE, with just the £3.98 delivery charge to pay.
Keyrings are nice to stick in with presents or even with cards. These Acrylic Keyrings* are £2.99 each. This means you can get TWO for FREE, with just £3.98 postage to pay.
Thanks to jaryn @ HUKD