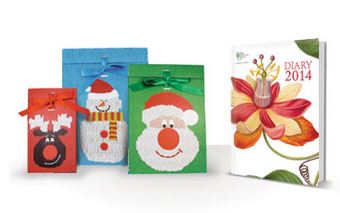 The Book People are offering a free gift with every £40 spent. There are two gifts to choose from: a diary or three gift bags.
The Book People are also celebrating the 12 days of Christmas with special deals every day, for one day only. As I write this I don't know yet what today's offer is going to be, but thought I'd let you know about it anyway, so you can pop on over and check it out - then combine the special offer with the free gift, have Christmas wrapped up, find yourself some holiday reading and kick back for some relaxation.
The first free gift, the RHS Diary 2014 worth £13.99 features  stunning replications of works of art on vellum mainly from the 18th century, including Aubriet, Ehret, Bolton and Turpin, plus many more timeless talents. This beautiful hardback week-to-a-view diary makes a charming gift and is handy to keep on any desk for quick reference for key dates and important events. Full-colour throughout of the luminous and rich images, the easy-to-navigate layout is made all the easier with the helpful ribbon marker.
Second option, the gift set worth £5.99 includes three finished wrapelope  bold and bright gift bags.  Ideal for storing presents and giving to friends and family, their tidy appearance ensures they will look stunning under any tree.