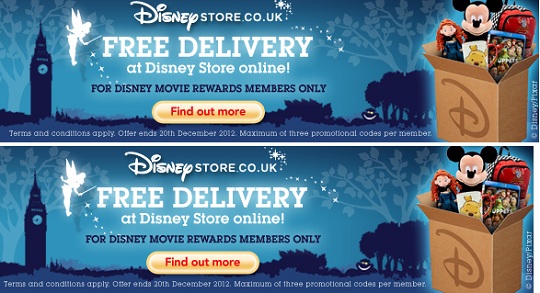 This is an ace deal for anyone who wants to get some great Christmas goodies without having to pay the usually extortionate delivery charges at the Disney Store. To get your free delivery codes just follow the directions below and you'll soon be on your way to tasty savings.
To get your free delivery codes you need to sign in to the Disney Movie club and these are part of the Disney Movie Rewards. You register and sign in and under the Promotions section you will find the free delivery codes ready for you to use and enjoy.
While registering and entering all your details and getting all the lovely spam mail may be tedious it is worth it for the freebies. You also get free personalisation and a free activity pack. It's all fine and dandy for those of us looking to get some lovely Disney gifts without the extra charges.
Thanks to adds03uk at HUKD!