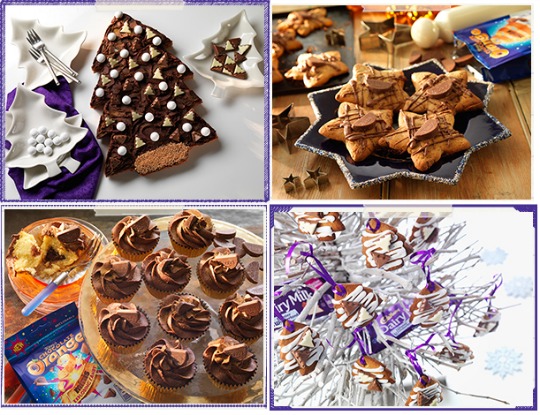 I can't cook. I'm hopeless. But baking is a different matter. I love making cakes and puddings, as long as they involve chocolate. (What can I say, it's an addiction.) So these FREE Cadbury's Christmas Recipes made me very happy, and we're sharing them with you. Don't they look amazing?
There are loads of gorgeous looking cakes, biscuits and puddings all made using Cadbury's sweet treats of one sort or another. You can just enjoy drooling over the pictures, or you can use the recipes and have a go yourself. I love the look of the Chocolate and Cherry Christmas Tree Cake - how stunning would that look on your table after Christmas dinner? Not everyone is a fan of mince pies and Christmas Pud, but everyone likes chocolate don't they?
Or if you can't bear to break with tradition by bringing Chocolate to the Christmas table then there are plenty of opportunities to show off your baking skills over the festive and party season. How about making some Chocolate Orange Truffles for the Boxing Day Buffet?
And as luck would have it you can get pouches of Chocolate Orange and Exploding Candy Chocolate Orange for 75p instead of £1 from today at Sainsburys. The Winter Wonderland bar you need to make the Chocolate and Cherry Tree Cake has also been seen in Home Bargains for just 49p and Asda for 50p, rather than the going rate of £1 a bar.
There are all sorts of sweet treats you can make from the Free Recipes from Cadbury's. Just make sure you save a piece of cake for me please. ;)
Thanks to AK47Raja @ HUKD.