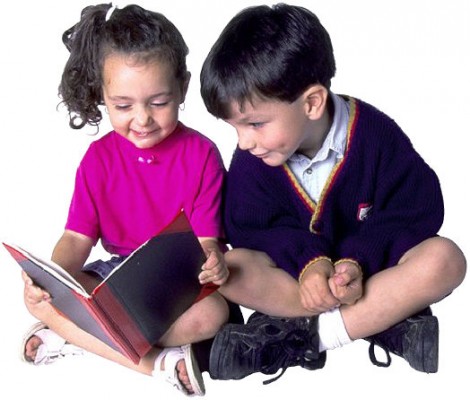 Reading. One of the best gifts you can give to a child. The wondrous worlds, the magic and imagination, the hours of visiting other places and people. Reading is one thing I will always love, and I will always thank my parents for introducing me to the wonder of reading. However, books can be quite expensive and, as a parent, you can get quite tired of reading the same stories over and over again.
Instead of wearily dragging out the same stories, or taking books out from the library and forgetting to return them (like I do), why not boost your entire children's book collection for free? Fantastic stories for all ages available for nothing at all. They come in all shapes and sizes, and they all have two things - they are free and they are doorways to the imagination. The first site you simply have to visit is All Books Free. They have a huge range of free books for you to download directly from publishers and author websites. The books are for all ages - toddler to teen - and even include old classics like the Elves and the Shoemaker (one of my personal childhood favourites). All you need to do is click on the link for the book and you'll be taken to the site where you can download and print a PDF copy.
If you don't like the idea of reading from tatty pieces of paper, you can invest in some folders to put the pages in and print off old illustrations to decorate the covers. You can even get your kids to join in with the decorating to really personalist the books to their tastes.
Another idea is to purchase some ribbon and a punch and to then punch the sheets, weave the ribbon through, and voila, you have a stunning little book that cost nothing more than a few accessories. Best Children's Books have got the Beatrix Potter stories on their site for absolutely free. This is a gem of a site with stories like The Tale of Peter Rabbit, Tale of Benjamin Bunny and the Tale of Jemima Puddleduck, there for the taking. They also have a Peter Rabbit Colouring Book that you can buy for $2 if you want some extra fun.
The stories are exactly replicated from the originals but you will have to endure adverts running down the sides of the text. I wasn't able to print the pages so I can't tell you if they print without the ads, but you can always copy and paste the text into a Word document to avoid having adverts on your pages. The site says it is entirely legal as the copyright has expired. You can also get free copies of the Mother Goose nursery rhymesand free fairy tales on the same site.
Another utterly fantastic resource is Children's Storybooks Online. They have an enormous database of free books for children that covers ages from tot to teen. You can enjoy any number of different titles, and they add new books to the site all the time.
The books from Children's Storybooks Online have to be read online though, so while not as convenient as some of the other sites, there is a lot more variety. The layout is really simple, you just have to sit back and use the mouse to navigate the pages. The site is also broken down into the different groups for easy navigation. An utter gem for long journeys and on-demand reading entertainment.
Mighty Book has over 800 free books for kids of all ages. They also have activities and games, all of them geared towards entertaining and educating your child. The books are plain or animated and you can have a select few for free. If you want access to the entire database you'll have to subscribe, but there are enough sample free books to enjoy without having to spend any money at all. Classic Literature boasts an impressive collection of classic texts that have been released into the public domain. Among these you'll find children's classics like Alice in Wonderland and Journey to the Centre of the Earth, among others.
You can even get the entire Oz series - from the Wizard of Oz all the way through to the final episode. If you never read through the entire Oz series, then grab these and get reading with your kids - they are as strange and fabulous for adults as they are for kids.
Hopefully this pile of free children's books, and websites packed with free children's literature, will keep you and your kids entertained for many happy hours. They will certainly come in handy as the Christmas holidays approach, the nights draw in, and we all look for ways to keep little hands and minds busy. Happy free reading!