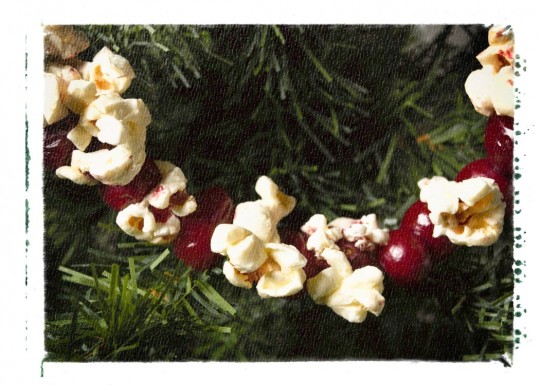 Christmas is approaching fast with under two months to go until the big day and, with all the belt tightening going on, there are many ways you can whip your home into festive shape without spending a lot of money. Here are some simple ideas for decorating the home this Christmas. 
One very traditional and fun way of decorating for Christmas is to use popcorn and thread. Old thread in any colour will do and you don't need to buy fancy popcorn either. Why not try the Fudco popcorn for only 95p at Tesco? Popcorn wreaths and garlands are fun to make and they are, helpfully, brilliant at keeping the team going as they create them.
A popcorn garland for the tree is super easy to make. Follow these lovely instructions at Bryan Turner or read on...
Just pop the corn, leave it to cool, and thread the needle with your chosen thread. Don't cut the thread from the spool though, you need a lot of length here, and then push the needle through the centre of the popcorn and push it down to the end. Keep on going until you have a gorgeous and tasty garland for your tree.
Feel free to add in things like cherries or apricots or dried fruit slices to make a very festive Christmas decoration. Or you can use food colouring to turn your popcorn into a vivid Christmas fiesta.
I also found a brilliant walkthrough to make a popcorn Christmas wreath and if that doesn't impress people, I will be amazed. It looks good enough to, well, eat… However, if popcorn doesn't appeal to your inner Christmas decorator, why not try using liquorice allsorts or other sweets that can be easily strung along? You can use the same principle of thread and use all kinds of retro goodies to make tasty garlands.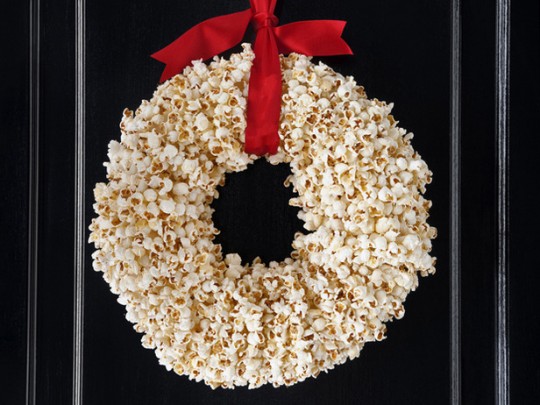 I tend to make these a few days before Christmas, or when I have guests, so the sweets don't get too sticky or stale. I hate throwing them away! Or you can use old sweeties that have passed their sell-by dates, just make sure you tell everyone to avoid them.
Next up, to create the scent of Christmas, grab a pack of tasty oranges and some cloves and create a star pattern by pressing the cloves into the body of the orange. You can use any pattern you like and these juicy decorations will soon have your home smelling heavenly. Attach them to the Christmas tree using ribbon held in place with decorative pins.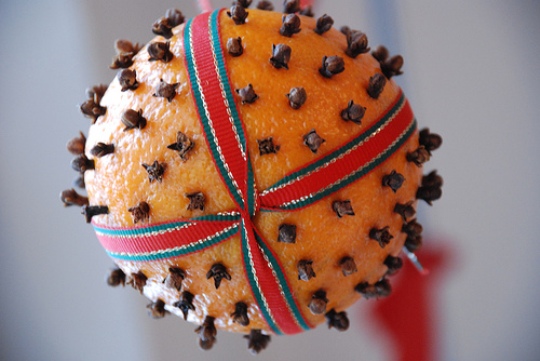 Another brilliant Christmas tree and windowsill decoration is the crunchy Christmas biscuit. You can find a stunning Stained Glass Window Biscuit recipe on Tesco's RealFood website that is very easy to make and guides you through the process of creating pretty and tasty treats for the tree. Perfect for family and guests to nibble on throughout the festive season. I love these and I think I'm going to try and whip some up this weekend.
If you happen to have your own secret biscuit recipe, such as a lovely Christmas cinnamon mix, then make holes in the top of your biscuits while they are still soft and fresh from the oven. Make sure you place these quite far down so the cookie doesn't break.
The next tasty treat is one that I love and have done for years. I try to mix the sweet and wicked with the healthy and tasty as much as I can, especially now that I have kids. So, one of my favourite tricks is to take Christmas decorated paper cups, you can get these everso cheaply at places like Poundland, and fill them with a mixture of dried fruit and nuts.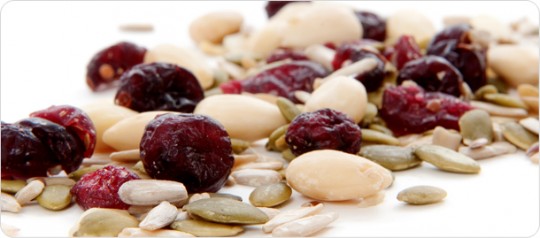 Usually I mix raisins, sultanas, cashews, apricots and figs but it often consists of whatever dried fruit and nuts happen to be on special over Christmas.
As a child I would often collect piles of pine cones from the parks and spray paint them with metallic paint or cover them in glitter and stickers. This tradition is still going in our house and usually only uses things we already have lying about at home. The best part is that when you're done with using them as Christmas decorations, you have a keepsake from your kids. These aren't edible, obviously, but they are too good and way too much fun to neglect.
If you happen to be staying with family over Christmas, these ideas can be part of your Christmas gifts. Either prepare the biscuits beforehand and wrap them with lovely brown paper and raffia, or take everything along with you and get the kids and adults involved in the fun. Simple ideas with tasty results.