Fisher Price Tough Kid Digital Camera £29.93 @ The Hut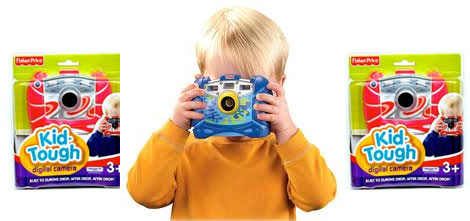 This Fisher Price Tough Kid Digital Camera is just the thing for all budding David Baileys and Mario Testinos!
In my other life I'm a photographer and I shoot with a Canon 5D; it's big, it's too big and heavy for my youngest to get to grips with, so this Fisher Price Tough Kid Digital Camera is ideal for him.
Some people have an eye for photography and some can learn it, but the only way to find out if your child is the next Mario Testino is to put a camera in their hands as early as possible.
I had my first camera when I was seven - it was a little Polaroid thing, it took 110mm film and you had to attach those little flash cubes to the top, that went all frothy behind the glass when they'd been fired.
It cost a fortune to have lots of rubbish shots developed for one or two that weren't too bad, with the digital revolution we don't have to worry about the cost element anymore.
Here's the spec':
Built in Auto Flash
1.5" Colour LCD Preview Screen
Two-eye viewing – easy for kids to look through the viewfinder
Sturdy dual hand grips for a steady shot
64MB of Flash memory for storing up to 500 pictures (depending on selected resolution)
Create 4" x 6" prints
Camera compatible with Windows 2000, XP, Vista or Apple Mac OSX or OS9
Built Kid Tough!
For ages 3 and over
This Fisher Price Tough Kid Digital Camera should retail for £49.99, The Hut are giving it away for just £29.93 - and that's my youngest completely sorted for Christmas now; hurrah!
Thanks to whizzkid over at HUKD