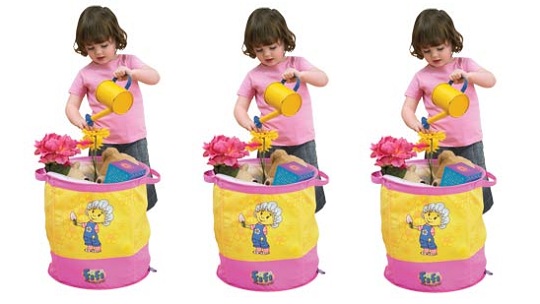 The Fifi Pop Tidy is great for storage and tidying up your child's room. Big Red warehouse has this pretty Fifi Pop Tidy on sale for £4.99, marked down from £12.99, bargain!
Encourage your little one to tidy away with this cute, fun and functional Fifi and the Flowertots soft storage unit. Getting children to tidy up is always a nightmare but hopefully having a pretty and fun storage unit like this will help. It's great for storing toys or any other bits and pieces while not taking up too much room.
With Christmas on the way there are going to be even more toys and probably even more mess in your child's room. This storage unit will be a great way to save space, time and effort when tidying up after the festivities.
The storage unit features Fifi and Fifi's logo with yellow and pink design. It is 38cm x 38cm x 38cm and suitable for children over the age of three.