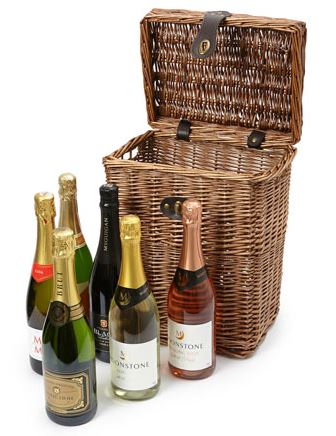 Clearing out Christmas stock, BHS have an offer on their Festive Sparkling Wine hamper, reduced from £60 to £48. It goes without saying this offer is only available for the over 18, and if you use the offer on the page - FREEDEL10 - shipping is free too. 
The Stunning Festive Sparkling Wine Selection Hamper is a Thornton & France hamper, containing six sparkling wines sourced from around the world, and perfect for spring evenings in the garden, or picnics on the green.
The hamper includes:
Sol Club Bucks Fizz (75cl),
M&M Cava (75cl),
McGuigan Sparkling Shiraz (75cl),
Moonstone Brut (75cl),
Moonstone Rose (75cl),
Robe D'Or (75cl).
It all comes in a hamper, which you could use to carry your picnic in when you enjoy your drinks. I can't see any reason why you can't enjoy these beautiful sparklies any time of the year, even if it was a Christmas Hamper to start with - the first bottle could be to celebrate with your loved one on Valentines day!