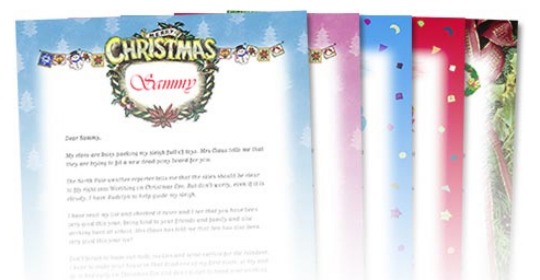 It's getting close to that time of year when I sit down with my boys and we write our letters to Santa Claus. We normally stick Christmas music on and make some festive bits and bobs. It's more for my pleasure than there's. It makes me feel so warm and fuzzy inside. We have done the whole sending them off via Royal Mail, but as my children get older, their letters become nothing short of hilarious and I fancy keeping them from now on.
This site is the perfect solution, kids write letters, I pretend to post them, meanwhile keeping them hidden. A week or so later I print off these FREE letters from Santa Claus and post them through the door for the kids. Kids LOVE getting letters, more so when they are from good ole Saint Nicholas.
There is a choice of five different letters to customise, and each one is very sweet. Just follow the step by step instructions on freelettersfromsantaclaus.com and you will be able to print off lovely letters specially customised for your children. The best bit is that it is completely FREE and they joy it'll bring little one is immeasurable.
Thanks to AL1S0N @ HUKD