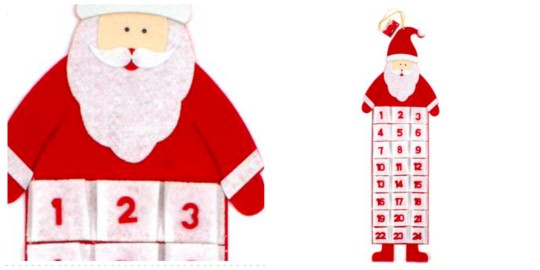 If you're thinking of doing some crafty Christmas stuff this year, then this adorable felt Santa advent calendar - just £5 from Hobbycraft - might be just your cup of tea. And if you haven't yet joined the Hobbycraft club you can also get 15% off everything online when you do so.
Measuring 70 x 23 centimentres, this cheery little dude isn't enormous but just the right size for hanging on a bedroom door or by the fireplace.
There are 24 little pockets incorporated in the front so you can pop a small gift, sweet treat or even instructions for a Christmas craft or some festive fun inside each one.
We have one of these and my little ones have always adored it - the shriek with delight when we open the box of Christmas decorations and they spot this guy poking out.
One small problem - I have to fill each pocket last thing before I go to sleep at night because if I filled it all in advance there's no way they wouldn't peek when I'm not looking!
I love that it's totally reusable, too.
Delivery from Hobbycraft is free when you spend £30 or more, and if you're spending £10 or more (so may be worth buying two of these - one for a friend or a relative...) then you can use their free Click and Collect service and have it delivered to your nearest branch of Hobbycraft within 3-5 working days. Otherwise standard delivery to you door costs from £3.50.
Click here to find out more about joining the Hobbycraft Club so you can get 15% off your next online order.