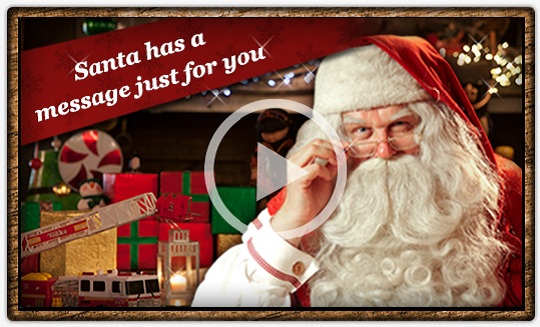 For the last two years Playpennies has featured The Portable North Pole, a personalised message from Santa to your children and it has been a huge hit. With less than a month to go till Christmas the Portable North Pole is live again with some great new features.
Click here for your free message from Santa at the Portable North Pole*
Compared to last year the basic video is still free but they have now put in a payment system (I supposed they needed to fund the site somehow). They have various packages that you can buy; the basic one (after the free video) is £2.99 and they go up to around £13.99. Whichever you choose the payment stuff tends to be less intrusive than most and is confined to a few screens at the end and the odd button here and there asking if you want to buy XYZ or download the HD video.
As far as changes go, last year they showed a picture of what it was that the child wanted for Christmas but that seems to have gone this year in the free video. Santa still acknowledges the gift but the categories are broad and I'm not sure the picture they will show of the gift will be any good if they show a picture at all. You do however still get a main photo and 2 photos of events/ occasions during the year.
They have added the option for adults to receive the card too but as of this moment, that section still says "coming soon".
Thanks to Ling at HUKD!