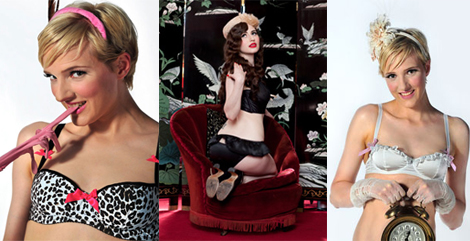 Saumarez is an ethical lingerie boutique that sells wickedly delectable lingerie that has been created to high ethical standards. They have offered PlayPennies readers a delicious 10% discount on all their products from right this very minute up until 24 December 2010!
So, what is ethical lingerie I hear you asking? Well, all the lingerie created on the site has been made by companies who care about people and the environment, mixing eco-style with socially conscious products. Yes, I totally stole that line from their site but I couldn't have written it better myself!
Discount: 10% OFF
Promotional Code: LC0912
Expiry: 24/12/2010
What I love about this site is the burlesque feel that they've given to all their images. Everything feels rather wicked and fun and terribly sexy. The only thing I'd say I would like to have seen is more voluptuous women on the site. I am adamantly against the fashion industry's obsession with stick insects.
The price of the lingerie varies from extremely pricey to about average. I think that this is the site you want to leave open on the computer so your partner gets the hint about your Christmas presents…
So, if you fancy nabbing yourself some ethical lingerie then grab your 10% discount voucher and dive right on in.