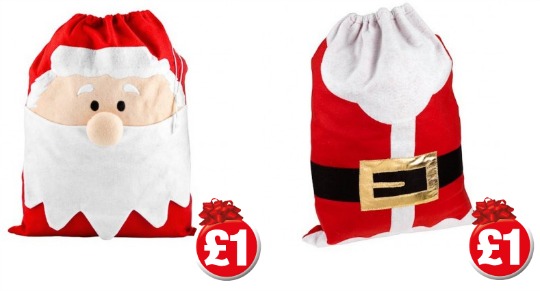 So you've got some presents, and now you're on to the wrapping. Rolls of paper is cheaper, but bags are sooooo much quicker and easier. If you have a lot of little presents or the Christmas stocking looks a little tired and in need of replacement then how about this cute Embroidered Santa Sack? It's just £1 from Poundland.
I always run out of time to wrap everything so I think I'll grab a couple of these next time I'm in Poundland just to save time and effort. There are a few very awkwardly shaped presents that look very difficult to wrap, so a sack like this might solve that problem too.
These normally go for much more than a pound, so this looks like a bit of a bargain. Remember that Poundland don't offer online shopping (boo) so you'll just to brave the crowds and go to the shops. I wonder what else you'll see when you're in there!
Thanks to bharats @ HUKD.