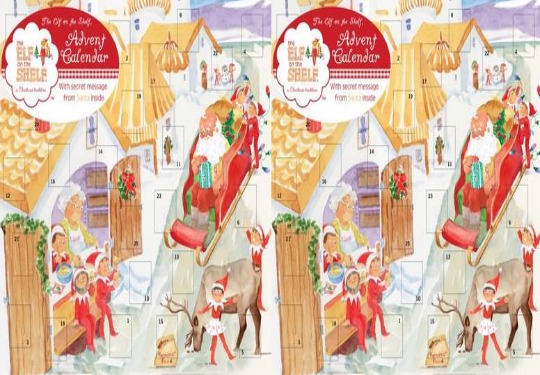 This little Elf dude is becoming most popular here in the UK. My boys are petrified, so I am tempted to buy this for when they are naughty! I never knew you could get the advent calendar of Elf on the Shelf, but you can, it doesn't come cheap. We have found the lowest priced one at £7.01 from Wordery.com. Plus they offer FREE delivery on every order. It is a MUST for the Elf on the Shelf fans!
The Elf on the Shelf is one of those things that you either LOVE or HATE. The books with the Elf sell unbelievably when we post deals on here. This of course is the Advent calendar, which allows you to follow the Elf on his adventures without actually having him roaming your house, when you are asleep. Psst. I don't believe for one second he goes to the North Pole.
This Elf themed calendar features that imp like character throughout the twenty five images, behind the doors. That's right, you even get to open one on Christmas Day! That door in particularly, has a lovely message from Santa.
There's no chocolates or toys with this calendar, but will please little Elf lovers regardless of that fact.