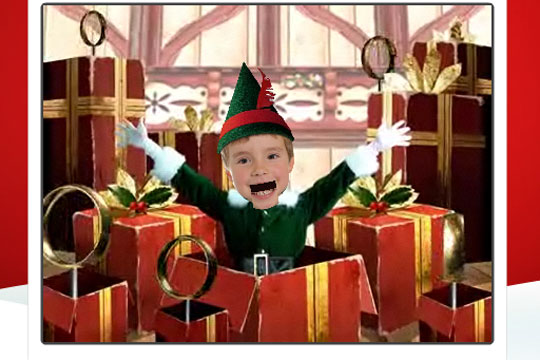 If you're looking for something to do that's a bit daft, a bit funny and that kids of any age will love (even my teenagers love doing this), then you should all create an ElfYourself elf.
Click HERE to go over to elfyourself.com
It's free (hurrah!) and all you need is a couple of minutes and a photograph on your computer of whoever you want to 'elf' - I did one for my youngest this morning and it's had me chuckling away.
You don't just have to do it for fun though, you can send your ElfYourself creation out as an e-Christmas card and save yourself a fortune in stamps.
You can create up to five elves to appear all together, by uploading the faces you want to appear on your card, so the whole family can groove and sing together.
Next you choose a dance - you can be a funk, disco, hiphop, 80s, surfing or singing Elf - going through all the dances has to be one of my favourite bits of elfing myself.  Last year my favourites were hiphop and singing, but this year 'funk' is looking pretty cool.
When you've done that, you have your ElfYourself card code mailed to you in the form of a link to your creation that you can email out to your Christmas card list; you can share it on Facebook and Twitter too.
I properly love playing with ElfYourself and rediscovering the amusement of it every year is similar to finding a £10 note in a pocket of a coat that you haven't worn since the previous  year - a real 'brucey bonus' that just makes you feel good.
Have a go at Elfing Yourself and share your links with us in the comments below;  go on, you know you want to and the kids will love their moment of PlayPennies elf fame.