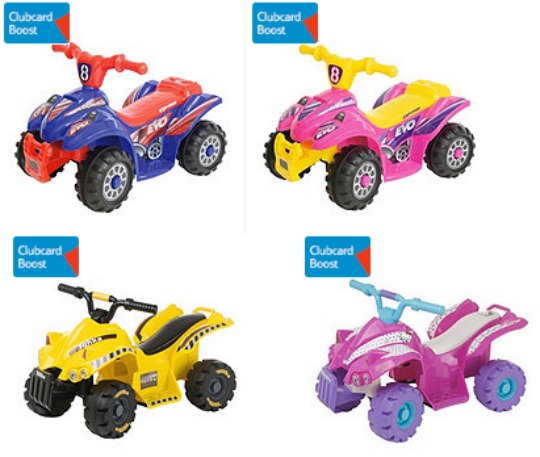 These caught my eye this morning as they look impressive. I don't know about you but I always like to have at least one "big" present from Santa on Christmas morning and not only do these Quad Bikes fit the bill but the prices are attractive too as they're all reduced and in the Clubcard Boost. With prices starting from £26.25, if you're lucky enough to have some vouchers on your account you can boost, you can get a pretty impressive looking gift for half the price again!
The Evo Bikes were both £35 and are now £26.25, while the Tonka and Hello Kitty were £40 and are now £30.
If you've not had your Clubcard vouchers through the post yet don't despair, you can go into your account on Tesco and they should be there, so it's a simple case of adding them to your basket at checkout and seeing that price drop. Just be aware that when choosing your voucher, any unused funds will be re credited to your Clubcard account and won't be available to be used again until the next quarter when the vouchers are re issued. Not a huge issue but if you are wanting to use them for Christmas, it's just something to be aware of.
You can opt to collect these from a Tesco store near you for free or home delivery will cost an additional £3.