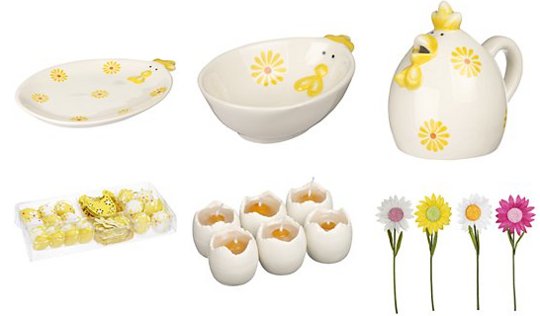 There's a whole range of Easter themed table settings and décor available at John Lewis at the moment, most of which is reduced to half price.
I wish I had the kind of house where I could have décor set aside for every holiday of the year, or a box in the attic (or even an attic, for that matter!) that could be brought down every year, but alas, that's not where we're at.
Included in this offer are serving dishes, bowls, and decorations, reduced from £6 to £3, £3 to £1.50 and £13 to £6.50 for a pack of 27 decorations.
There are nibble dishes, milk dispensers and tea cosies for a simple tea rather than a full scale lunch . For a spring theme, rather than a purely Easter one, there are decorative large flowers, reduced from £6 to £3 and wooden flowers down from £8 to £4.
Thanks to lucerysmum at HUKD