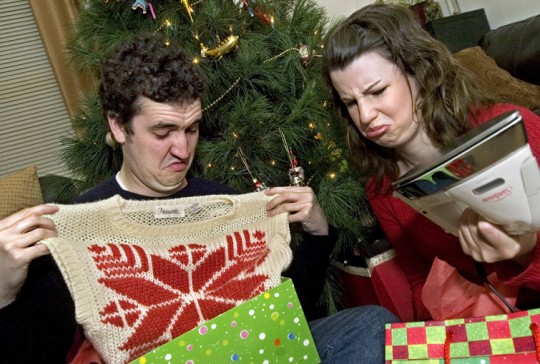 Christmas is one of my absolute favourite times of the year. The smell of the food, the mood of the people, the light dusting of fake snow on the floor (ha!), it's all awesome. This year I've really gone a bit mad and made my own Christmas cakes again, and invested in a stunning chocolate gingerbread recipe for the office to snack on. It's the best, but for some it is a bit of a nightmare. Why? Because they go to the nth degree to make it awesome and then they get a ghastly gift as thanks.
You do not want to be the husband, wife, relative or friend who is famed for raiding the garage shop the night before Christmas. According to HighStreetVouchers.com, their recent survey had partners buying the worst gifts at a staggering 19.3% then came in-laws at 15.8%, then friends at 14.4%, then parents at 13% and aunts and uncles at around 10.97%.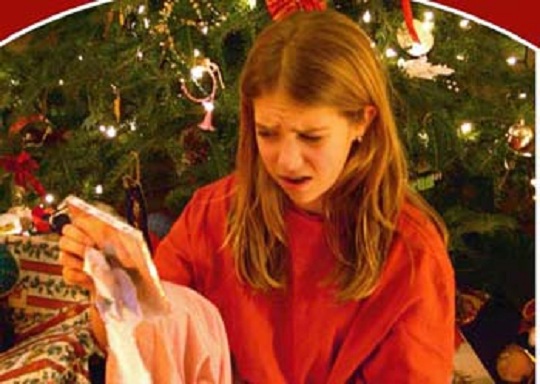 This survey really made me laugh. It was the quotes from the people who responded that were the absolute best. Jacquelin from the Isle of Lewis said that, "On my first Christmas as a married woman my husband bought me a packet of three sponges from the Pound Shop. I got told blue was for washing the car, green was for the bathroom and pink was for the dog."
Shocking! If you really want great gifts for your other half this Christmas, and it's your very first as a married couple, then why not pop on over to our sister site HotUKDeals where you will find some amazing discounts and deals on great products. You can even find yourself a last minute holiday or escape that will be very romantic indeed. Do not buy her three sponges, guys, they may have to be surgically removed from your ears if you do…
The survey had even more witty results that I loved. The top ten worst gifts list had me cackling with laughter. These are things I would now like to go and buy for people as joke pressies just because they are so funny. Although I have actually bought my husband a saucepan for Christmas (in my defense he wanted one…)!
The list is, in order from 1-10: jumpers, irons, perfume, saucepans, slippers, diet books or gym memberships, socks, chocolates, clothes in the wrong size and granny knickers.
Now I cannot imagine how I would feel if someone bought me an iron for Christmas. I would probably hit them with it, but that's me. I am not sure I would find perfume or slippers rubbish, those could easily be the most awesome ones around, and cold feet are always horrible.
Still, if you happen to stick to those stalwarts at Christmas, perhaps you need to liven up a bit, get some fresh ideas and explore alternatives. HotUKDeals is a win, as is the Amazon Christmas Store – both these sites have excellent ideas for you, and at decent prices. I love getting amazing pressies for people especially when they are on sale and I don't have to pay full price.
Here are a few of the other quotes from people interviewed for this survey and the things they had to say. Honestly, even my worst Christmas gift mistake does not compare to any of these!
"I got a pair of earrings that had been previously worn. They weren't in a card or in a box, they were wrapped in toilet roll!" said Wendy from Kent.
"A pair of scissors because I'd asked for something shiny and that is what I got. I was thinking, maybe, earrings?" said Jennifer from West Midlands.
"An old pack of sage and onion stuffing wrapped in Christmas paper from a neighbour who, it seems, didn't like us. Strange!" said Helen in London.
And the winners are…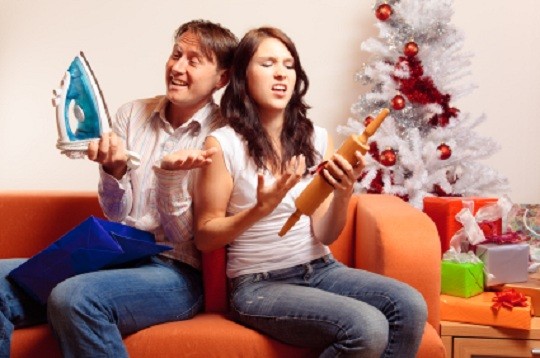 "A box of tampax when I was pregnant, I was not impressed. And I opened them in a room full of people." Anita, Kent
"A mirror from my ex. I didn't like it the first time he gave it to me! He rewrapped it and gave it a 2nd time!" Jayne, Hertfordshire
Now don't be the gal or guy who is at the receiving end of this type of disappointment and honestly please don't be a skinflint. If you don't have a ton of cash, make a gift or shop around for something special. When it shows that you know the person and care about their interests, that's when you have bought the perfect Christmas gift.