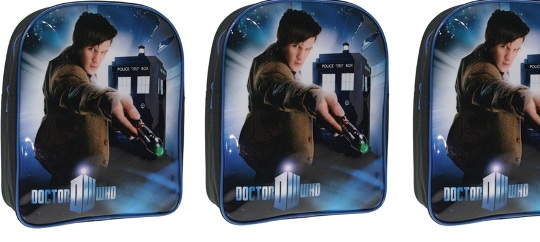 Oooh, now this is an awesome deal from Play.com. Here you have a very tasty Doctor Who backpack for only £3.99 instead of the original £9.99. Now I have spent ages hunting for a decently priced Doctor Who backpack for my daughter because she is such a fan and this is the best price I have seen.
The Doctor Who backpack is big enough and (hopefully) sturdy enough to tackle the rigours of school without breaking a sweat. And perhaps the image of the Doctor waving his sonic screwdriver will put off any potential thieves.
There is absolutely zero information about the backpack itself. We know it was almost a tenner, that it is now under £4, that delivery is free, and that there are plenty in stock. The image looks ace, as does the blue piping, and I can only assume it has adjustable straps.
This looks like a fab Christmas gift for any kid who loves Doctor Who, and I am definitely going to nab one for mine.
Thanks to lucerysmum at HUKD!