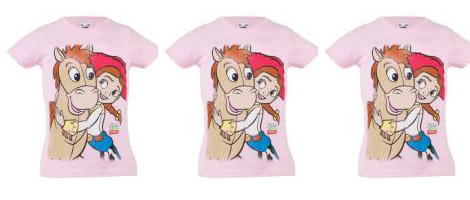 My daughter is Bullseye and Jessie mad! In fact, I have spent the better part of two days trying to find a Bullseye that is a) in stock and b) not marked up to ridiculous rates due to demand. Hopefully this ace t-shirt down to £4.99 will make up for her lack of Bullseye at Christmas.
The t-shirt is really cute and has Jessie giving Bullseye a great big hug. Little fans of the series will adore wearing it and it will make a lovely little stocking filler this Christmas. The Play.com price of £4.99 includes free delivery too.
Currently the shirt is in stock for sizes S, M and L so if you want one, you'd better gallop on over there before it is too late. You are saving a nice £3 on the original retail price of the shirt and, thanks to the icy weather, it will last you for quite some time.
Thanks to millarcat at HUKD!