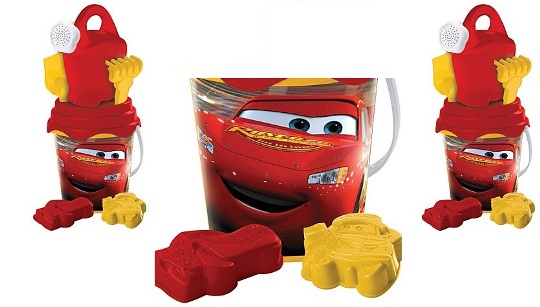 Debenhams has marked this ace little Disney Cars bucket set down from £9 to £4.50 which is half the original price and, using the code below, you can get this delivered for free. In fact, you can also try and get another 20% off using the other code I wrote below.
The Disney Cars bucket comes with seven different pieces and the codes you need for extra discounts are: PJP8 for 20% off (I am not sure if this will work on top of the current discount but it is worth a try) and SHD1 for free delivery.
The set includes a 17cm bucket, a watering can, a scoop, a rake, a sieve, and two different sand moulds. It is really quite cute actually and I'm just not a Cars fan at all. But the little face printed on the bucket and the two moulds are very sweet.
There are some other items on sale at the moment if you fancy taking a look, like the Lightning McQueen booklight that has been reduced to £6.40.
Thanks to stormkitty at HUKD!