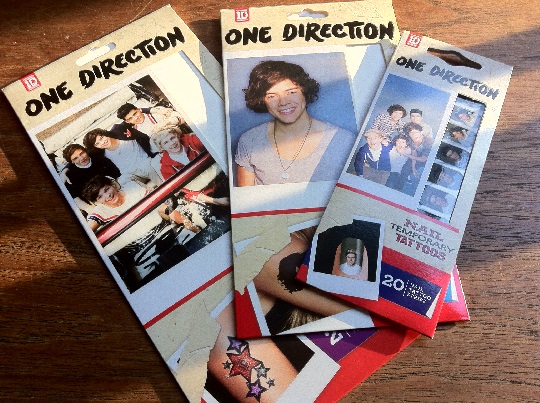 Christmas gifts. Stocking fillers. Yes it is that time of the year again. The shops may only just be dusting off and putting out Halloween decorations, but money savvy parents know that they have to start putting things away sooner rather than later.
One Direction, or 1D, are still one of the most popular pop groups in the UK, so the chances are high that you've got at least one 1D fan in your life. If that's the case then this review is for you.
Find Me A Gift* is selling three One Direction items that will make great potential stocking fillers, or other gifts. Nail temporary tattoos, I Love Harry temporary tattoo, and Glitter temporary tattoo. We got one of each in for review. Read on to find out more.
One Direction Nail Temporary Tattoos
A photo of Harry Styles on my thumb. I have to say it was definitely a weird experience. And I got a lot of comments on my nails! Part of that will be down to me not being your typical 1D fan (and I am NOT a fan, this was all purely for review purposes!) and also because I have never, ever stuck anything on my nails before at all.
The One Direction Nail Temporary Tattoos cost £4.99. For this you get two strips of ten - 20 tattoos in total, one for each hand. Nail art, as it seems they call it, is not my thing. I've never used these things before and I think that actually, I would in the future. They were quite a bit of fun, although I'd get something that was more me.
So a couple of mistakes I made most people wouldn't. They're not all the same size (Du'h I know right! Just didn't occur to me ...) so make sure you put Harry on your thumb and then the other guys in order down to your little finger. I needed help doing my right hand but other wise they are really easy to put on. And to peel off again.
It says to adjust the excess using a nail file. Have no idea what is meant by that and didn't have a nail file! We finally remembered that there's a metal one in the nail clippers but it didn't make for a smooth finish. I would recommend having an emery board to hand, one with a fine side.
One Direction Temporary Tattoos
Now one of these tattoos says Mrs Harry Styles. I would have died of happiness when I was 13 if I had been given a temporary tattoo that said Mrs John Taylor (and that wasn't written all over my school pencil case, oh no, not at all).
The pack of 3 sheets of Harry Styles One Direction Temporary Tattoos cost £4.99. As far as I could see you get about 11 tattoos on the three sheets.
Also, it seems like there's only Harry available. I couldn't see any of the other group members on the site.
You cut out the tattoo you want, then place face down on the skin. Wet or rub with a cloth or sponge. Check one corner to see if it has transferred properly, or keep wetting it until it does.
Pretty much the same process for all of these sorts of temporary tattoos. Unlike the pirate ones we used at a birthday party though, these ones didn't seem to last as long. I only tried out a couple of the tattoos though, and I did wear long sleeves. After just a couple of hours bits of it were flaking off.
That said, it could also be the way I applied it. The second tattoo did last a lot longer. Maybe a bit more care and patience is required.
One Direction Glitter Temporary Tattoos
Out of all three products this is my favourite. Like the other two, the One Direction Glitter Temporary Tattoo packet costs £4.99.
There are two sheets with ten tattoos. Putting the tattoo on is the same process as for the Harry Styles tattoo above. The tattoos all look really lush, and I loved the red and purple colours. What is also fun about them is that they don't look obviously like 1D tattoos. My friend and I wore one each to a family fun day, and it was a bit of a laugh. Other mum's would look at them and then slowly you'd see it dawn on their face that it was 1D themed.
Again, my tattoo didn't last that well, but my friend managed to keep hers pretty much intact for about three days. Maybe I just have skin that's too oily?
Pros: the images are all good quality, great fun for a 1D
Cons: still a bit pricey at a smidge under a fiver but you are paying for the 1D name
Overall verdict: 7 / 10