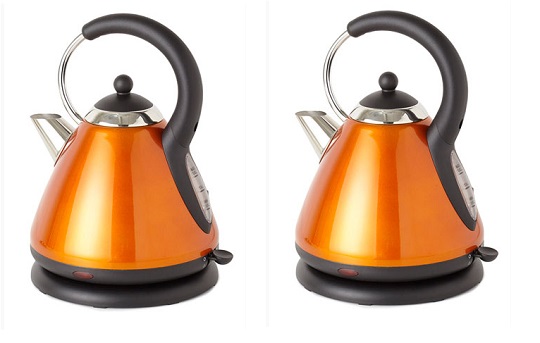 I absolutely love this range of kettles and this colour is too gorgeous for words. What better way to fight off the gloom than with a sparkling, bright kettle and a cup of tea? This is now down from £50 to £25 at BHS which is a fantastic saving.
This eye catching kettle will add colour and excitement to any kitchen – so says the marketing spiel. Not sure how it adds excitement though? Does it sing and dance or do a little juggle with balls of fire? Hmmm.
You can get this in a variety of colours and it looks like all of them are at this super low price so you can have the gorgeous burned orange in the picture above or you can go for white, cream, silver, blue, red, green, yellow and black, among others. If not for you, why not get this as a Christmas gift for someone who needs a new kettle and would love something this sparkly?