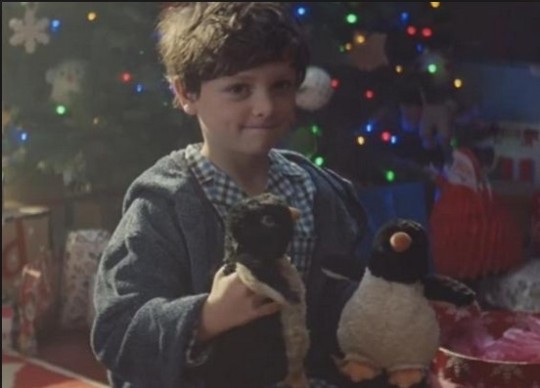 Normally crying at TV adverts is a commonly accepted side effect of pregnancy, and at other times it's less socially acceptable. In the case of John Lewis and their Christmas advertising, however, that doesn't apply. The 2014 advert for John Lewis Christmas is no different!
This year the brand brings penguins into the story.
The two-minute "Monty's Penguin" clip evokes "the magic of make-believe at Christmas through a child's eyes", the retailer says.
In the advert a little boy and his penguin are quite inseparable, but the penguin is still looking for a mate - a wish Sam fulfills when he brings Monty a gift wrapped friend on Christmas morning.  It's sweet, and quite eye watering (a little less than the £1mil it cost to make, what with CGI and all in there!)
The John Lewis website has a whole page dedicated to Monty & Mabel, with online games and activities, and of course the chance to buy a myriad of Monty & Mabel merchandise*, including the (ahem) very reasonably priced 50cm Monty plush toy for £95.
It's a beautiful story and it's sure to get people talking, but I don't know if they'll ever be able to top the Bear & the Hare from last year for me!
Either way, the merchandise does seem to sell out quickly, so if you want to get your hands on Monty, move now to save any disappointment!