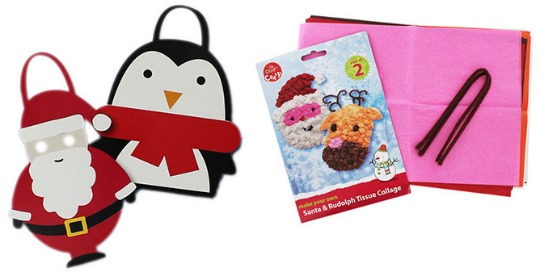 Well folks, it's the first of December, which means deck the house with lots of Christmas decorations and goodies. Why not get creative with the kids and make some nice bits and bobs. It need not be expensive with places like The Works. Their "Make Your Own" Christmas range starts at just 50p, and they have a promo code CYBER20, which gives you up to 20% off plus FREE delivery when you spend £10+.
I LOVE doing anything to make me feel festive, so kits that help me create festive goodies are a hit in my eyes. They are SO affordable too, and a great activity for over the weekend, when the weather is crumby.
Here's some bits that I think are a great buy: These Create Your Own Christmas Foam Bags* are just 80p when you enter CYBER20 at the checkout. You can make two out of the kit and they are ideal to fill with sweeties for Granny and Grandad.
Also, for 80p you can get this Make Your Own Christmas Collage kit* which the kids will love and they can stick it up in their room once it's done.
How about getting the kids to make you Christmas cards for the family? This Make Your Own 3D Cards Kit* is fantastic for just £1.59.